Ce lien mène à une cagnotte pour aider l'atelier que mon amie Gayaneh a créé en Arménie, pour aider les femmes en difficulté de sa province, et des personnes handicapées.
Les attaques azéries et la covid ont eu des conséquences désastreuses pour l'économie et sur les familles les plus démunies.
Si vous pensez comme moi que la solidarité rend plus humain, sachez que pour le prix d'un plat du jour ici, on donne pour là-bas de quoi faire du pain pour huit personnes pendant un mois, et la force de continuer le travail, dans la dignité. Merci par avance !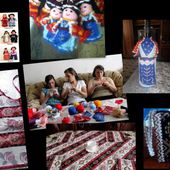 Talin Dolls Handicraft Project for Women
Talin Women's Resource Center Development Foundation (TWRCF) Since 2012 TWRCF has been empowering women and the local communities in and around Talin, Armenia to become economically secure ...
https://haysatar.com/campaign/87/talin-dolls-handicraft-project-for-women